Prairie County was created in 1915 out of parts of Custer, Fallon, & Dawson counties. The county seat is Terry.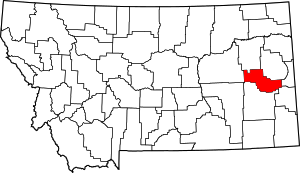 Hi everyone. I'm Jodi Samel, the new county coordinator for Prairie County. I've changed this site quite a bit and am hoping to get more info loaded soon. I'm in need of volunteers. If you can give up a bit of time for courthouse, library, or cemetery lookups, area/cemetery photos or from books you own, please contact me at the link below. Also if you are looking for information that's not here, let me know. I'd like to help if I can. You can click the "email" link in the bottom left to contact me.
Looking for Place Names in Montana??? This link is a great place to start!
If you have anything to submit or have any questions, please email me.
USGenWeb Notice:

These electronic pages may NOT be reproduced in any format for profit or presentation by any other organization or persons. Persons or organizations desiring to use this material must obtain the written consent of the contributor, or the legal respresentative of the submitter, and contact the listed USGenWeb archivist with proof of this consent.
© 2020 to present MTGenWeb