My name is Jodi Samel & I am the Fallon County Coordinator. Although I am a native of Fallon County, I currently live over 200 miles away, so please keep that in mind when asking for information. Betty Kusler (the previous coordinator) has spent countless hours collecting & compiling most of the information that was in the Fallon County newspapers. My goal is to get that data scanned & transcribed. Thank you also to Monte Slater for transcribing several years worth of obituaries.

If you have any pictures of headstone in Fallon County, please email the digital form to me. I hope you enjoy the site!


County Seat: Baker
Established December 1913. From 1877 until 1913, this area was part of Custer County. From 1864 until 1877, this area was part of Big Horn County.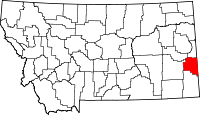 The following is a link to some great information about the years of county formations:
http://www.rootsweb.ancestry.com/~mtbighrn/mtcountychronology.html


If you have anything you would like to submit or have any questions, please email me.
USGenWeb Notice: These electronic pages may NOT be reproduced in any format for profit or presentation by any other organization or persons. Persons or organizations desiring to use this material must obtain the written consent of the contributor, or the legal representative of the submitter, and contact the listed USGenWeb archivist with proof of this consent.