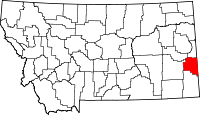 Fallon County was created 9 Dec 1913 from Custer County. At that time, the county seat was Ekalaka. A year later, that decision was re-voted and Baker was named the county seat. During the next 4 years, Fallon County lost land to the creation of Wibaux, Prairie and Carter counties.
My name is Jodi Samel and I'm the county coordinator for Fallon County. I have recently been redoing the website to make it easier to access and keep updated. This is a very time consuming process. Hopefully you like the changes and will keep checking back to see what is updated. With this update, much of the information that was on the site previously is no longer there. Please be patient. I am working hard to get this information back on the site.
If you are researching and need help, please let me know and I can check my reference material and see if I have anything that can help you. I'm always happy to help if I can. A link to my email address is listed below in the bottom left box.
Looking for Place Names in Montana??? This link is a great place to start!