Yellowstone County is looking for a new county coordinator.
If you love history and genealogy, we would love for you to join the team!
Visit MTGenWeb's Adoption page or email MTGenWeb Adopt!
My name is Jodi Samel, the babysitter for Yellowstone County, Montana.
If you have resources and would like to volunteer to do lookups, please contact me.
Please be aware of the copyright notice and disclaimer.
While information on the site is free for your family research, commercial use is prohibited.
---
If you have Yellowstone County information to share, please contact the county coordinator to get it online.

Search the Yellowstone County website!
Free Find searches the old Rootsweb site. Until a replacement can be found, use with this in mind.
Page last updated: 25 Jun 2022
Thanks to all the volunteers that make this website possible! If you have information you would like to see posted here, contact the County Coordinator
Surrounding Counties
Old Note: It has come to Katy's attention that the records of the St. Paul's Evangelical Lutheran Church are not housed at the Archives of the Rocky Mountain College. If you have information about any of these records and where they are being stored, please send that information, so it can included on the page.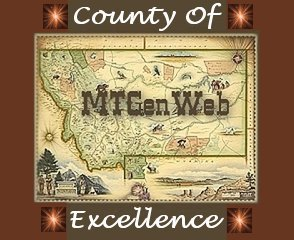 February 2017

Email MTGenWeb Adopt to become the Yellowstone County Coordinator
This site was updated: 25 June 2022 11:15:12 AM
MTGenWeb logo was created by Karen De Groote
Yellowstone County logo created by Vikki Gray