Horace Countryman – Columbus Founder
<![if !vml]>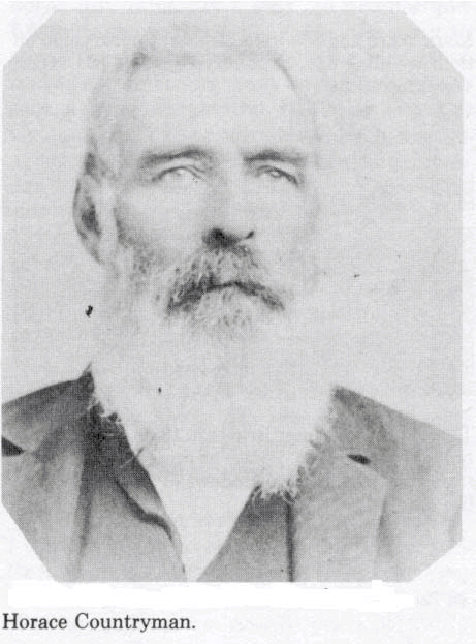 <![endif]> Revised Saturday, May 26, 2012 added more details
Horace Countryman was a trader who chose his site in 1875. He named the location as "Stillwater", and it was located about three miles east of present day Columbus on the Yellowstone River where the Stillwater River joins. He chose the site when the Crow Indian Reservation agency was moved from Mission Creek east of Livingston to a location south of Absarokee, 17 miles from Columbus. Here he built a toll road at Wilt Hill. He later moved his trading post to catch trade going up the Stillwater Valley, and named the location Columbus. His daughter, Mary Payne Quinn, filed the original townsite claim. Countryman's buildings were the last ones located up the river when a detachment under James H. Bradley from Fort Shaw [on the Sun River near Great Falls] stopped en route to join General Custer in 1876. It was here that 'Muggins' Taylor, Indian Scout for Benteen's command, and about 30 years old, brought news of the Custer battle to Columbus. Countryman carried the news on to Fort Ellis at Bozeman, where he turned over the dispatches to Peter Koch, who continued on to Helena, where the closest telegraph line existed<![if !supportFootnotes]>[1]<![endif]>. From there the news was transmitted to the rest of the world. [Note that the Bismarck newspaper ran an account of the battle earlier from rumored information gleaned from wounded soldiers of other commands on the riverboat Far West.]
Countryman charged one dollar for a person's first team to cross on his road, and 25 cents for additional ones. Later he added a basket tramway to carry people across the Yellowstone River. For this he charged 50 cents. He added ferryboats for crossing the river in 1880, and operated them until 1894 when a toll bridge was added. Judge O. F. Goddard, who introduced a bill to congress, legalized toll bridges into law.
<![if !vml]>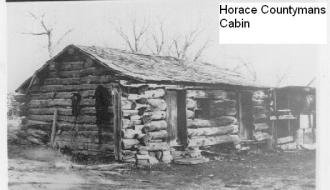 <![endif]>Columbus was platted for Countryman by Charles DeWyer (Dwyer) a Billings engineer, in 1883. The first building there was a log shack on the river where Countryman served as postmaster and stage station operator. "Uncle Billy" Hamilton, author of "My 60 Years on the Plains", occupied the building next to his. Countryman then built a log hotel and saloon. Pat Lavelle purchased adjacent land from Northern Pacific Railway and platted it for settlement. Horace built the cabin shown in the 1870's from logs cut by "Liver Eating" Johnson the previous winter. [Photo courtesy of Michael Woody<![if !supportFootnotes]>[2]<![endif]>, taken by Roy Countryman 1950.] The cabin has since been destroyed.
In 1880 Countryman received a government contract to build an Indian school, agricultural building and a portable sawmill on the Indian Agency land nearby for $6,510.00. The sawmill was operated by water from the first irrigation ditch built in the valley. He and a fellow named Kern sawed up 100,000 feet of lumber, first in the county [Gallatin]. Logs were cut from about 15 miles distant.  In 1883-1884 the buildings were abandoned when the Agency was again relocated.
The family bible, lists some of the family deaths:
<![if !vml]>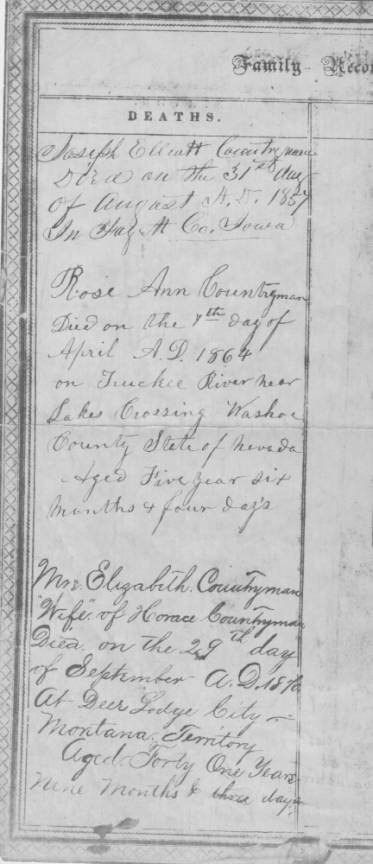 <![endif]>
<![if !vml]>

<![endif]>
Photos courtesy of Michael Woody (grandson)
Email me:
Katy Hestand
Yellowstone County Coordinator