| | | |
| --- | --- | --- |
| | Yellowstone County History | |
Bluebird
Designed by Arthur Bernard Green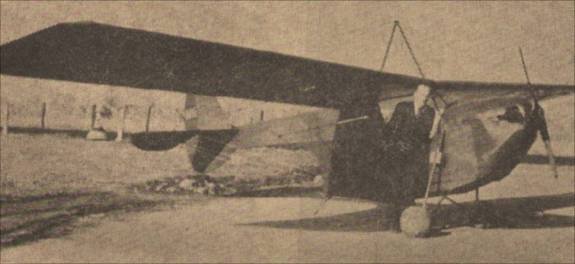 The National Airplane and Motor Co., had its plant located at 4th Ave N and 27th Street in 1935.
 

A. B. Green was founder and president of the company. The Bluebird weighed 453 pounds and could carry a 450-pound payload. It was a two-passenger craft, with a wingspan of 35 feet, and could cruise at 75 mph. It had a steel fuselage, and the wings were fabric covered. It had a cruising range of 350 miles. The factory employed eight people, and was located on the 2nd floor of the Midland Sash and Door Plant. Other investors were Jeff Tingle and R. L. Jones. Green became interested in aeronautics in 1906, and in 1910 he built his first dirigible in Nebraska. He was an experimental flyer during WWI. He claimed that after two hours of instruction anyone could fly the craft.
He attempted to get governmental financing to enter mass-production, but was unsuccessful. He completed four planes. After the rejection, he abandoned the business and started teaching aviation to high school students. He was reported to be killed 1944 in an auto accident near Roberts. [His wife, Elma Grace, provided details for this article to the Gazette in 1960 from her scrapbook.] However, he actually died 24 November 1945 at age 59. His remains wre cremated and sent to Great Falls for burial. He was born 20 June 1886 in Omaha, NE.
Green
 

Arthur Bernard

          

M

        

24 Nov 1945

  

59-5-5-M

        

27 Nov 1945

  

(Unknown)

     

Great Falls, MT (Cremation)

    

10005

 

20 Jun 1886

    

Omaha, NE

    

Roberts, MT

   

Aviation Instr. BHS

   

Unknown

                   

           

Unknown

       

Unknown

                               

Unknown

                   

Elma Grace Green

      

19 Jun 1929

    

Los Angeles, CA







Email me:
Katy Hestand
Yellowstone County Coordinator
© 2014 MTGenWeb