Flashback

Extracted from the following web page http://www.goldentrianglenews.com/articles/2009/06/03/shelby_promoter/news/news10.txt as of 5 Oct 2009

Wednesday, June 3, 2009 11:31 AM MDT
10 YEARS AGO: Lorene Christian, longtime Shelby and Toole County resident, was the recipient of the Woman of Distinction Award given by the Shelby Soroptimist Club for her many years of service to the community and volunteer activities.
Shelby High School Class of 1932.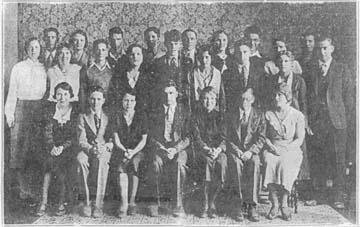 Back row, left to right, Glen Livingston, Fayne Laswell, Jack Horner, Lorna Travis, Lloyd McCormick, Hilda Dahl, Vincent Curry, Carol Black and Helen Kline. Middle row, Teacher (unknown), Effie McKechnie, John McNett, Nona Isaakson, Burke McNamer, Helen Hasquet, Jerry Rosenberger, Helen Rensmon and Dale Heath. Front row, Dorothy Curry, Fernald Landeen, Amby Horner, Howard Beardsley, Lucy Turner, Ronald Burwash and Sigrid Suphellan. Photo courtesy of Sigrid Grinde
Dennis and Sonja Diemert have purchased Western Furniture in Shelby from Marvin and Shannon Cox. The Diemerts will be sharing the Western Furniture building with Quick Cash & Rent-To-Own, another business enterprise which they own.

Pete Svennungsen defended his title in Helena at the State Class B track meet by clearing 6'3" in the high jump. It was the highlight for the Shelby Coyotes' boys' team which scored 19 points and finished 10th out of 40 teams represented. In the girls' competition, Kassidi Myrick threw the discus 114'2" to claim second place. The girls scored 14 points to tie for 11th place.

Randy Richmond and Cleve E. Johannsen have declared their candidacy for the two open seats on the Sunburst City Council. Councilman Jay D. Johannsen's term is expiring and the seat Pat McCracken was elected to is also up for election. Mary Eikomstead was appointed to complete McCracken's term.

20 YEARS AGO

Pat Lager, who graduated from Shelby High School on May 30, is among the 141 graduating seniors to be selected a Presidential Scholar by President George Bush and Secretary of Education Lauro F. Cavazos. The scholars are invited to Washington, D. C., June 17-21 for a host of activities in their honor, including a White House ceremony where each will receive a Presidential Scholar medallion. Lager and Duane Gripentrog, Shelby High School science teacher, will be participating in the national event.
Shelby Coyotes Jason Cole and Shane Johnson qualified for the Meet Of Champions in Great Falls which will feature the top two state placers from each track and field event in classes AA, A, B and C. It will be the 25th anniversary of the meet, which will be held June 3.

Northern Express Transportation Authority (NETA) will send four delegates to the International Intermodal Expo '89 in Atlanta, GA, June 13-15 to promote Toole County shipping facilities. Making the trip will be Larry Bonderud, Mark Cole, Gary Iverson, and Joe Gottfried. Like last year, NETA will have a booth at the Expo.

Ramona Stoltz, a junior at North Toole County High School, is one of two students selected to represent Montana as a High School Student Ambassador in the Youth science Exchange to the Soviet Union during the summer of 1989.

30 YEARS AGO

Janae Bunyak, a junior at North Toole County High School, has been named one of the top winners of the 1979 Navy National Science Awards for her research in agricultural genetics. She was invited to compete in the Navy national awards' competition after she won a major award at the Montana Science Fair.

The 50th anniversary of St. Luke's Lutheran Church, the dedication of its new church building, and the laying of the corner stone was held June 3.

A large, new barbecue was constructed in Kevin by Jim Cook and volunteer help in memory of Joe Alstad, who served as the town's mayor for several years. The pit is gas fired and will be used for the first time at Kevin Days June 9-10.

Pat McDonough of Shelby caught a 221/2 pound Northern Pike in Tiber Lake, south of Lothair. The fish was 40 inches long and eight inches deep.

Rock Svennungsen, son of Mr. and Mrs. Amos Svennungsen of Shelby, will receive his Doctor of Optometry degree June 9 from the Southern California College of Optometry.

40 YEARS AGO

The Marias Valley Golf and Country Club, one of the best and most beautiful golf courses in Montana, was officially opened for play the last weekend in May. The first foursome to play on the new facility were Don Hellinger, Don Fischer, Lin Storti, and Bob Turner.

A six-month trial period of non-operation of parking meters in Shelby's downtown area was decreed Monday by the Shelby City Council after a lively discussion with Allan Larson, representing the Shelby Merchants Committee. Larson presented a petition to the council with more than 90 signatures of businessmen and women, requesting the six-month trial period.

John R. Lynch of Roundup has been named manager for Mountain States Telephone at Shelby, succeeding Art Erpenbach who has been appointed supervising and installation and repair foreman in Helena.

Winners of the All-City Cub Scout Pinewood Derby were Mark Black, first in the speed category; Joe Thomas, first in design; Tim Schoendaller, second in speed, and Mike Lingle, third in speed.

50 YEARS AGO

Mrs. Theo F. Kluth of Shelby_ was named Business Woman of the Year at the Montana State University School of Business Administration's annual awards' banquet on May 23.

Kay Lawson has been named Valedictorian of the graduating class of North Toole County High School and Betty McFadden is Salutatorian for the class of 29 graduating seniors.

Dorothy Jarvis was installed Worthy Advisor and Janice Irvin was installed as Worthy Associate Advisor of the Order of Rainbow for Girls No. 51.

Corlie F. Dunster, social studies teacher at Shelby High School, received the Valley Forge Classroom Teachers' Medal for her outstanding work to create a better understanding of our American way of life and patriotic contributions.

Allan Dunham, former Shelby High School basketball and football star and former outstanding basketball player for Montana State University, has been named head basketball coach at Sweet Grass County High School in Big Timber, succeeding Ray Dodds, who will coach in Sidney.

60 YEARS AGO

Among the cadets graduating from the United States Military Academy in West Point this June is Gilbert W. Kirby Jr., son of Mr. and Mrs. G. W. Kirby of Shelby. Upon graduating he will be commissioned a second lieutenant in the engineers artillery.

Stan Watkins, local distributor for Great Falls, Budweiser, and Old Style Lager beer, has purchased the former location of the Addy Motor Co. on Great Northern property from J. B. Barclay. The building will be used as a warehouse.

Darrel Coover, son of Mr. and Mrs. C. D. Coover of Shelby, has been elected to the honor society of Kappa Tau Alpha, national journalism honorary at the University of Minnesota.

Howard Armstrong and Ann Montgomery, fifth grade students at Shelby's Westside grade school, won first and second place, respectively, in the County-State Dairy Association Contest. Each student wrote a 1500-word theme on "The Miracles of Milk."

70 YEARS AGO

Shelby is preparing for the visit of royalty on June 3, when Crown Prince Olav and Crown Princess Martha of Norway will stop briefly while changing trains to Glacier Park.

The price of wheat is still steadily rising, reaching 65 cents per bushel on May 31, a 4-cent increase during the past week. About three weeks ago wheat was down to 52 cents per bushel.

Bud Isaacson has purchased Atlas Cleaners in Shelby from Jack Goff and DeLyle Martin. The business is located in the Syster building across from the county warehouse.

Patricia MacHale, daughter of Mr. and Mrs. P. R. MacHale of Shelby, has received notification of her award of the Golden Eaglet, the highest distinction of Girl Scouting. She is the first Shelby Girl Scout ever to have received this honor.