Barry O'Leary Is
Elevated to
Mayor's Office

Butte Aldermen Elect Successor to Charles Hauswirth in Stormy Session; Mrs. Hauswirth Gets Four Votes
---
Barry O' Leary of 410 North Washington Street, a veteran Democratic alderman of the Second ward, last night was elected mayor of Butte at a special council meeting. He succeeds the late Charles A. Hauswirth. He will serve a complete two-year term until the first Monday in May, 1943.
Ten votes were cast for Mr. O'Leary while Mrs. Leila Hauswirth, widow of the late mayor and candidate of the republican minority, received four. Two of the 16 aldermen did not vote.
The meeting was a dramatic one during which Alderman Arthur Mehrens, acting mayor since the death of Mr. Hauswirth, repeatedly asserted that "I am the mayor." He refused to leave the chair until the council passed a motion directing the police department to remove him as "an intruder in the mayor's chair." Mr. Mehrens' attorney also was escorted out by police, after he had been warned to keep his place.
Mayor O'Leary's right to the office was further disputed by Alderman Mehrens who at an early hour this morning issued the following statement:
"I am going to continue to serve as mayor until the State Supreme Court decides this matter. I think that is the Democratic way. I have been advised that these are my rights and I feel I must stick by them. If this were not the case I would support Mr. O'Leary."
Mayor O'Leary, after receiving the oath of office and being seated, thanked the councilmen "and the people of Butte for their confidence and the honor they have conferred upon me," promising at the same time to do everything possible, with the co-operation of the council, to make his administration a successful one.
He had intended to make some appointments last night but the order of business for the special meeting did not include provision for these. These appointments probably will be announced at a regular meeting of the council tomorrow evening.
Alderman Phil Doherty, Democrat, of the sixth ward, was elected president of the council over Thomas R. Morgan, Republican, Seventh ward, by a vote of 15 to one. Mr. Morgan was unanimously elected vice president of the council.
Motions were adopted to make the election of Mr. O'Leary as mayor and Mr. Doherty as president unanimous.
Gallery Packed
Long before the scheduled starting time of the meeting the gallery was completely packed and spectators jammed the corridors to the street. Six policemen were on duty to keep order. A public address system carried proceedings of the meeting to those standing in the hall. Outbursts from the crowd were frequent at the start of the meeting but a threat to have police silence over-enthusiastic spectators brought quiet. There were many cries of "Down in front!"
It was at 7:46 o'clock that Alderman Mehrens, still presiding as president of the old council and acting mayor, rapped the gavel to bring the meeting to order. He was seated on the platform in a chair next to one draped in black in respect to the memory of the late Mayor Hauswirth.
Mehrens Claims Office
Alderman John Lindquist of the Eighth ward made a motion that the council elect a temporary chairman. This was immediately ruled out of order by Mr. Mehrens on the grounds that "no vacancy exists and I am the mayor according to advice of legal counsel."
Lindquist appealed from the ruling of the chair but Mr. Mehrens refused to recognized the appeal although City Attorney Floyd Fluent pointed out that the council has the right to decide upon an appeal.
There followed several minutes of more or less bitter debate as to the motion and the correct procedure for the meeting to follow.
Aldermen Take Oath
Finally, calm being restored, City Clerk Beryl Wilson administered the oath of office to the 16 alderman, 12 Democrats and four Republicans. In the oath they swore to defend the Consitution, state laws and city ordinances, stated that they secured their election properly and promised that they would not use their offices to obtain money unlawfully.
Alderman Lindquist then put his motion again for the election of a temporary chairman and Alderman Mehrens refused to submit it for a vote. Under questioning Mehrens admitted that he felt he was mayor and that he had been advised to stay in the chair.
Mr. O'Leary reminded Mr. Mehrens that the 12 Democrats had agreed to support the candidate selected at their caucus Sunday and Mr. Lindquist asserted that Mehrens "took the oath of Office as alderman and not of mayor."
Attorney Taken Out
Referring to the advice he had received, Mr. Mehrens declaired that "you can ask 10 different attorneys about this and get 10 difference opinions. I have been told I am mayor. I would be a chump if I didn't stand for my rights and occupy this chair. At this 11th hour I have decided that I am the mayor."
It was at this point that Attorney Phil O'Connell stepped onto the platform to whisper to Mr. Mehrens. Alderman John T. (Sherrig) Sullivan called for his removal and Assistant Chief of Police Jack Duggan entered the railed enclosure. O'Donnell, smiling, was escorted outside the railing by Mr. Duggan.
Possible Litigation
Mehrens several times asked for permission for Mr. O'Donnell to speak to explain the opinion he had given. This request was not granted. Some members of the council expressed the hope that the matter would not result in any litigation.
After City Attorney Fluent made an appeal "for the good of the people" to stop "this jockeying," Mr. Mehrens put the motion on his "out of order" ruling in regard to the motion to elect a temporary chairman. His decision was voted down unanimously and the motion to elect a temporary chairman was carried unanimously.
Then, on motion of Alderman Lindquist, Mr. Mehrens was elected temporary chaiman.
The election of council officers followed. Alderman Lindquist nominated Alderman Morgan and it was seconded by Alderman E. J. Lowney, Republican, Seventh ward. Alderman Emmett Malone, Democrat Third ward, nominated Alderman Doherty and it was seconded by Alderman Pete Sodja, Democrat, Fifth ward.
After Doherty's election as president Alderman Sullivan nominated Alderman Morgan for vice president. It was seconded by Alderman Sodja.
Named Butte's New Mayor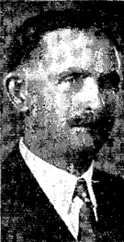 BARRY O'LEARY
A veteran alderman of the Second ward who was first elected to the city council in 1921, last night was elected mayor by the city council to succeed the late Charles A. Hauswirth. He will serve until the first Monday in May, 1942.
---
Vote to Remove Mehrens
Alderman Lindquist then called for Alderman Doherty to take his place as presiding officer, succeeding Alderman Mehrens. Mehrens again contended that he was the mayor and that "you must remove me by law—you wouldn't use force to remove me."
Lindquist made a motion to have police remove Mehrens and it was seconded by Doherty. Doherty, from his seat as alderman in the Sixth Ward then put the motion to vote although Mehrens still occupied the mayor's chair. The motion passed 15 to 1. Mehrens voting against it.
Assistant Chief Fuggan escorted Mehrens to his chair as a Third ward alderman. Mehrens went willingly but asked that the minutes show that he was removed "by force."
The meeting proceeded more smoothly after Alderman Doherty took over the chair and called for nominations for mayor.
Lindquist nominated Mrs. Hauswirth and Alderman Fred Scubert, Republican, Eighth ward, seconded it. Alderman Sullivan nominated Mr. O'Leary, and it was seconded by Alderman John O'Neill, Democrat, Second ward. On roll call the vote was as follows:
For O'Leary—Aldermen Sullivan, Dewey McGeehan, O'Neill, Malone, Fred Chrisly, Alex McDonald, Sodja, John J. Haggerty, Doherty and Frank Moran.
For Mrs. Hauswirth—Aldermen Lowney, Morgan, Lindquist and Scubert.
Aldelrman Mehrens did not vote explaining the he believed a vacancy did not exist. Mr. O'Leary voted "present." These two registered the same votes on the motion to make the election unanimous.
Gallery Applauds
The gallery broke into applause as Mr. O'Leary was escorted to the clerk's stand by Chief of Police W. H. Breen. Miss Wilson administered to him the oath of office—the same oath as that taken by the aldermen. Miss Wilson was the first to congratulate the new mayor after he had received the oath.
Mr. O'Leary's resignation as alderman of the Second ward was then submitted and accepted and council President Doherty handed over the gavel to Mayor O'Leary.
Mayor O'Leary's talk was brief.
"Gentlemen of the city council and ladies and gentlemen of Butte, I want to thank each and every one of you for the confidence you have shown in me and the honor you have bestowed upon me," he said.
"I assure you that I will do everything in my power to make this the best administration that Butte has ever had. I promise aid for the taxpayers and ask for your co-operation. I promise that politics will be forgotten and I hope that with all of us pulling together we can do great things for this great city of Butte."
Pledge Support
Mayor O'Leary's talk was followed by pledges of co-operation from all factions in the council. Aldermen McDonald, Malone, Sullivan and McGeehan explained that Cliff Crowley, defeated Democratic candidate for mayor in the recent election, had been their choice in the caucus Sunday but that they would support the man chosen by the majority.
Mayor O'Leary is well known to Butte people, having made his home here for the past 43 years. Prior to that he resided in California. He has been employed at the St. Lawrence mine for 39 years and for the past 32 has been engineer there. He is a member of the Butte Engineers' union No. 83.
He was first elected to the council in 1921 and has served a total of 16 years as alderman. He was named for his ninth term at the recent election.
In the council he has served on several committees, both as chairman and member, including such important ones as the judiciary, ways and means, parks and playgrounds, street and alley, finance, legislative and others. He has a reputation for his extensive knowledge of parliamentary procedure and he is well acquainted with city affairs.
His Family
Mr. O'Leary is married and has five children, four sons and a daughter. His married sons are Tim and John of Butte and Mike of Anaconda, the latter being coach of the Anaconda high school athletic teams. Another son, Robert, is a pupil at St. Patrick's school. His daughter, Mary, is a school teacher at Gregson. A nephew, Gerald Coleman, is a student at Christian Brothers high school.
Last night's meeting was the organization session for the new city council. The old council dissolved at noon yesterday and the new governing body took over last night. New aldermen selected are Dewey McGeehan who succeeds Joe Duffy in the First ward, John O'Neill who succeeds Pat A. Sullivan in the Second ward and John J. Haggerty who succeeds Fred McFadden in the Fifth ward. All are Democrats.
Alhough a successor to Mr. O'Leary's place in the Second ward will not be chosen until a later date, it was indicated that among the nominees will be Former Alderman Pat Sullivan.
The late Mr. Hauswirth, had he lived, would have been seated last night for his fourth consecutive term. He was elected over Mr. Crowley on April 7 and died suddenly of a heart attack four days later on April 11.
Mr. Mehrens who was president of the old council took over as acting maor to complete Mr. Hauswirth's unexpired third term.
The Montana Standard
Butte, Montana
Tuesday, May 6, 1941-Page 1