HENRY L. FRANK IS DEAD IN OHIO
NEWS OF HIS PASSING COMES IN A TELEGRAM TO HIS BROTHER IN BUTTE
---
LEFT CITY IN JUNE
---
Stricken by heat in Chicago during republican convention, he was taken to Cincinnati, where end came—Was pioneer citizen and merchant and mine owner of prominence—The catastrophe at Frank, B.C., when landslide took place, preyed on his mind.
---
Henry L. Frank, merchant and mine owner and a pioneer citizen of Butte, is dead in Cincinnati. The news came in a telegram to his brother, Louis Frank, and simply said that Mr. Frank had died during the day. Louis Frank left Butte last night on the North Coast limited for Cincinnati.
While it was known among Mr. Frank's friends that he had not been in good health for some time, yet the tidings that he had passed away were unexpected. In fact, no later than yesterday Louis Frank had a letter from Cincinnati saying his brother was improving fast and would soon be able to undertake a trip abroad which he had contemplated for some years.
On June 13 last he left Butte for Cincinnati to see his mother and other relatives there, prior to starting on a foreign trip. On his way he stopped over in Chicago during the republican national convention. While there he was taken violently ill, his trouble being attributed to the heat in that city. As soon as he was able to be moved he was hurried to Cincinnati, where he remained up to the time of his death. Reports that have been coming to Butte from Cincinnati recently have been of the most encouraging kind, and it was thought he would in a short time start for the coast to take the steamer for Europe. He had intended visiting Italy, principally for his health.
Is Severe Blow
While the cause of death is not given in the dispatch, it is understood to have been brain trouble which developed during his short stay in Chicago.
It has been noticed that Mr. Frank did not seem to be the same strong, active man, mentally or physically, after the big disaster five years ago at Frank, B.C., the coal town named for him, and where he had his mines. The development of the coal mines at Frank was the greatest undertaking of Mr. Frank's life. He had just about completed the sale of his coal properties to a French syndicate and was in Paris closing the deal when the news of the great landslide which wiped out the town, entailing great loss of life, was received there. This, of course, stopped all negotiations for the sale of the property. Mr. Frank, naturally of a kind-hearted disposition, felt very keenly the affair, grieving more for the loss of life than for the great damage that was done his property.
He bent his energies toward seeing that the unfortunate camp recuperated, and recently, when things were running as usual, he disposed of his holdings and devoted himself to other lines of business. The body will be buried in Cincinnati, where Mr. Frank's father is interred, and where his mother and most of his relatives live.
Progressive Citizen
Henry L. Frank was one of Butte's most progressive and successful business men. He was born in Ironton, Ohio, July 5, 1851, and consequently had just passed his fifty-seventh year at the time of his death. His people had been wine growers in Alasce in the times when that province belonged to France and before it was annexed to Germany. His father, Moses Frank came from Alsace to America when quite a boy, settling in Cincinnati, where he later engaged in mercantile business. He died there some years ago, leaving a wife, who had been Miss Ester Lupin, and seven children of whom Henry L. Frank was the eldest. Mr. Frank received his education in Cincinnati and got his business training in his father's mercantile establishment.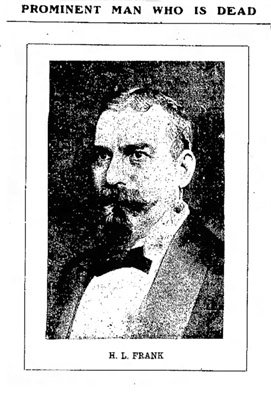 When about 24 years of age he decided to come West, and spent two years in Colorado and New Mexico. He came to Butte in 1877, and started in the wholesale liquor business, of which he made a big success. At first he conducted his business in a log cabin with a dirt roof on Main street. As his trade expanded he sought other and more commodious places and his last was in his modern building on East Broadway, adjoining the Standard building, where he had his business offices.
Owner of Coal Mines
In addition to his liquor interests, Mr. Frank was largely interested in mines in Idaho, Montana and Canada. In the latter country he owned the big coal mine at Frank, the town named after him, and which was nearly wiped out by a landslide several years ago. His coal mines there were considered one of his most valuable holdings at the time he sold them not long ago. For a while he was president of the Butte Water company and he was one of the organizers of the original Silver Bow Electric company. With the money he accumulated through his business investments Mr. Frank was ever ready for improvements on his real estate holdings. He put up the first building that was designed especially to accommodate the federal post office, that on East Broadway, to which place the post office was moved from Miners' union building.
A Democrat
In politics, Mr. Frank was a democrat. Twice he was elected Mayor of Butte, and twice he served in the legislature of the state when Montana was first admitted to statehood. He always took an active interest in the affairs of his party, serving as chairman of the state committee four years ago. In the legislature of 1901, he was a prominent figure in the fight for the United States senatorship to fill the unexpired term for which W. A. Clark had been selected two years before. It was the candidacy of Mr. Clark for the full term to succeed Senator Carter that had much to do with Mr. Frank not securing the honor. He and Mr. Clark were from the same county, Silver Bow.
Well Liked
Personally Mr. Frank was well liked by hosts of people in Butte who had the pleasure of knowing him. While a man of very decided opinions, which he never was afraid to express, he was candid and open with everyone and a genial man to meet on all occasions. He stood high in Masonry, having reached the 33rd degree, also he was a prominent Elk, having held high positions in the Butte lodge. He was a member of the Knights of Pythias as well, and took much interest in the order.
Besides his mother, who still lives in Cincinnati, Mr. Frank is survived by two married sisters there, Mrs. A. W. Goldsmith and Mrs. Mose Silverman, and three single sisters, all in Cincinnati. His only brother, Lou Frank, is a resident of Butte. Other Butte relatives are Mrs. S. Moses, an aunt, and Jess Silverman, a nephew.
Date: Tuesday, August 18, 1908
Paper: Anaconda Standard
Anaconda, Montana
Volume: XIX Issue: 350 Page: 1