It was a familiar story in Great Britain the early twentieth century. Men set out to find a better life and Joseph Henry MARTIN joined the throng. In 1914 he left his native St. Austell, Cornwall and his fiancée Florence HAMBLY and emigrated along with his cousin Nicholas CHESTERFIELD on the S.S. Oceanic in July 1914.



Joe already had a hereditary weakness in his chest but he secured work as a miner and went to work with great enthusiasm which he never lost - even in later years his favourite jaunt was a ride around all the clay tips in the St Austell area. In the 2 years before Florrie joined him he sent back many postcards of Butte and its mines.


The postcards read, 'This is just as she looks by night winter time, love Joe. I used to live away up this street.' And 'This is part of the main street, don't it look like Plymouth, Love Joe' The family have about 15 of these postcards, some showing the insides of the mines with Joe's detailed descriptions of what is happening.



By 1916 Joe was already suffering some ill health due to his chest weakness and the heat in the mines. However he and Florrie saw their future in America and in 1916 she joined him. She travelled totally alone, 2nd class on the S.S. New York arriving 31st July 1916. From there she had to be processed through Ellis Island and then make the long journey to Butte.

Joe and Florrie were married August 16th 1916 at Unity M.E. Church, Meaderville, Butte by the Rev William H. PASCOE and the witnesses were Walter GAVED and Eva GAVED . When I was researching my Grandparents' life in Butte I wanted to know about people they had known to build up a picture of their everyday life. I had no idea who Walter and Eva GAVED might be or why they were witnesses at Joe and Florrie's wedding. It was a complete coincidence that whilst in contact with someone researching their family tree that I saw they had Joe's mother Elizabeth Jane STONE on their tree. She had married Joseph Henry MARTIN, Joe's father. Looking more closely at the STONE family tree I caught sight of the name Eva STONE who would be a cousin to Joe. Eva had married Walter GAVED and they had emigrated a few years before Joe. So that solved a mystery in a pleasing and satisfactory way.

Joe and Florrie lived at 414 Warren Avenue in Meaderville, Butte. Meaderville no longer exists, in the 1980's huge open cast mining works started in the area and so Butte lost a vital part of its history including the church where Joe and Florrie were married. The wooden frame house is no longer there although we have stood on the site where it would have been as that part of Warren Ave just survived across the road from the Berkeley Pit.

Life would have been far from easy in Butte. Despite being a thriving and up to date city ('just like Plymouth' Joe had said, high praise indeed for my Grandparents always thought a trip to Plymouth, Devon was the tops), it was also a volatile hot bed of corruption in politics and in Union troubles and racist problems, (Butte had signs in its mines in 16 languages at one time) morality and the weather. Searingly hot summers and bitter winters, exacerbated by the immense fug from the mine workings which rolled down the hill and caused the electric lights to be switched on by noon most days.

With 1917 came the North Butte mining disaster, well documented, and for the young MARTINS it was a significant year. Joe was now working on the 'Safety First' team at Mountain View Mine and may well have been involved in the disaster along with many other teams called to help deal with rescue and the grim task of removing over 100 bodies from the fire wracked Granite Mountain and Speculator Shafts. Florrie must have had extra cause to be anxious, she was just weeks away from the birth of their first child. Joseph William MARTIN was born on 26th June 1917.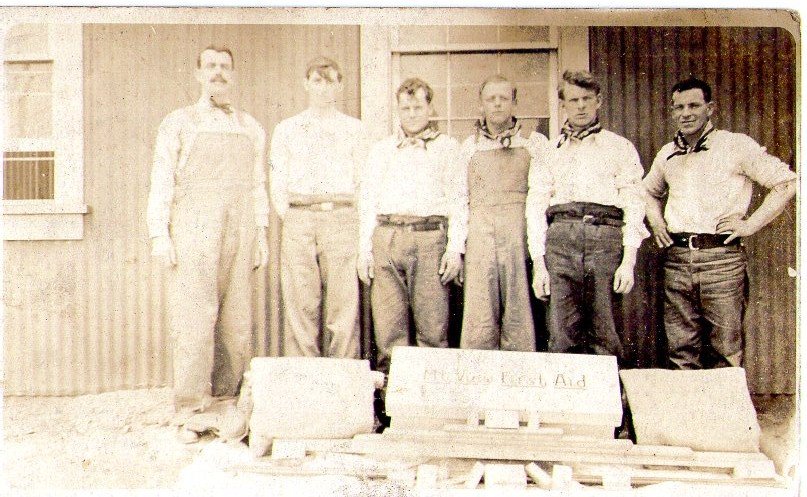 First Aid team outside Mountain View Mine.
Joseph Henry MARTIN 2nd right.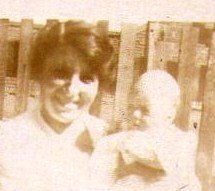 Florrie MARTIN and Joseph William MARTIN.
(I have attributed the above photo to Florrie and Joseph William but cannot be absolutely certain it is Joseph William. From the original which is full length, the clothing style and surroundings suggest the time and the place.)
Despite the troubles in Butte and although they never really spoke about their time there my Grandmother told me a little about it (more of that later) and from that I deducted that they envisaged staying.
However events changed all that. Joseph William MARTIN succumbed to broncho pneumonia and died 26th February 1918. Joe senior didn't fare well in health either, he had Silicosis, but still applied for the 'Intent to Naturalise'. The document is dated 1919. What changed their plans can only be surmised from the little my Grandmother told me but they returned to Cornwall in 1920.
I was very young when one day I was looking at photos with my Grandmother. I pointed at one and said, 'That's Daddy'.
'No' she replied 'That's my first little boy Joseph, he died aged 18 months' (I obviously misheard that, he was 8 months old) in America'. During the conversation that followed I remember just a few sentences 'And I had twin girls but they died a week old of heat fever' and 'We would have stayed in America if your Grandad hadn't got ill'.
Over 45 years later in 2001 and long after my Grandparents died my husband and I visited Butte. Over the previous 3 years I had been searching for evidence of my Grandparents' time in Butte using the internet and had excellent support and help from the Butte Archives and someone who has become a very close friend, Dannette BETTISON whose family emigrated from St Austell in 1916 when her father Jack was a few months old. I therefore knew that Joseph William MARTIN was 8 months not 18 months old at death and I knew that I had heard right when my Grandmother said they would have stayed in America because Dannette had located the Intent to Naturalise Document. Those 3 sentences my Grandmother had spoken to me have always stayed in my memory so what about the twin girls?
That remains a total mystery. We have never found any record of twin girls either the birth or death. I calculated that they would have had to have been born in 1919 as Joe and Florrie returned to Britain in 1920. Their only other child, my father Joseph Roy MARTIN was born 26th July 1921. Was it the death of these baby girls that prompted their return? Was the Naturalisation turned down because of Joe's ill health? These are questions I think might never be answered. The records for Butte are patchy in 1919 with some church record books 'disappearing' when Unity Church disappeared under the Berkeley Pit although others survived.
When we returned from Butte and I showed my parents the photo we'd taken of Joseph William MARTIN'S grave at Mount Moriah Cemetery my father was stunned. He never knew he had a brother (I assumed everyone in the family already knew when I was told and it wasn't until I got interested in family history that all this came out) .
Joe and Florrie's parents and siblings must have known about the problems in America and I once asked Florrie's sister Daisy (Louisa May) NICHOLLS nee HAMBLY if she knew anything about the American saga. Her reply was 'She went to America one person and came back another – she never talked about it'.
I know Florrie was not a sentimental person and was perceived to be quite 'hard'. We are lucky to have any surviving documents or photos at all on that side of the family!
As the plane lifted off from the Airport at Butte I looked down and saw the cemetery of Mount Moriah. It was an evocative moment. Joseph William's grave is now tended on America's Memorial Day by another friend Olive PEARCE who is very active in the Butte Chapter of the Montana Cornish Cousins.



Joseph William MARTIN'S grave (inscription Jos W Martin 1917 – 1918) Mt Moriah Cemetery, Butte, Montana. It is one of the few graves surviving in this bleak spot known as 'Babylands' because so many babies are buried here.
We returned to Butte in 2002. One day I would like to return to search again for the mystery twins – I can still hear Nanny Martin saying 'And I had twin girls but they died a week old of heat fever'. If only we thought to ask more questions whilst those who can answer them are still with us!

Caption on left, 'Your's sincere, Flo & Joe 1917.
Flo would have been expecting their first child,
Joseph William Martin.

Special thanks to the following people who have gone out of their way to help me with my research: Dannette Bettison who helped me with my research and also my gratitude for her sponsoring a memorial tile at the Granite Mountain site for my Grandparents; Bobbi Nicholls Jernigan, June Tresidder, and Whitney Gaved Panton. Thanks also to Whitney's father Walter Gaved, Grandson of Eva for his memories, and Olive Pearce for the picture of Unity ME Church as well as tending Joseph William Martin's grave and sustaining my membership of Butte Cornish Cousins. Thanks to Ellen Crain and her staff who showed me a wonderful old book with hand-drawn plans of the streets in Butte which enabled me to find the address of my Grandparents.

Kay Smith ~ 2013