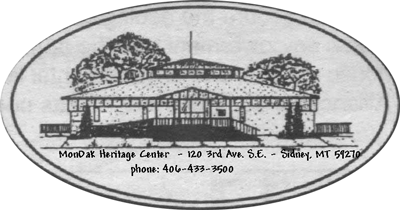 MONDAK HERITAGE CENTER
120 Third Ave SE, Sidney, MT 59270
phone: 406-433-3500 -- Fax: 406-433-3503


MonDak Heritage Center hours: Year round

Tue-Friday 10-4pm and Sat 1-4pm

Leann Pelvit - Administrative Assistant

The MonDak Heritage Center in Sidney
has a special room set aside for historical records; newspaper archives, books on Montana History, private collections, and a special homesteader card file listing families together. Volunteers maintain this room, and match obituaries with the cards. Several Richland County cemeteries are indexed here.
Special exhibits are featured at various times of the year. The Spring quilt show is well attended. The basement has early day pieces and political history. One of Montana's Governors, Donald Nutter came from Sidney.

When contacted for specific information, they will do limited look-ups. They also sell both family history books, Courage Enough I and II Send a SASE requesting basic information to:

MonDak Heritage Center
120 Third Ave SE, Sidney, MT 59270

The center welcomes donations, memberships, books and family cards if you have Richland County roots!
E-mail MonDak Genealogy Dept
Please put the word Genealogy in Subject line!

---
Publications available:
Hundreds of early family histories
COURAGE ENOUGH I [1976]

COURAGE ENOUGH II [1996]
HOME RANGE, ELMDALE
Focus On Our Roots- Story of Sidney
Our Jubilee - 1911-1961 Yellowstone Valley
HONYOCKERS HERITAGE, Richey
many more historical biographies are shelved at the MonDak Heritage Center

Some cemetery info available in the history archives at MonDak..

MonDak volunteers are canvassing Richland Co. Cemeteries and posting
them on the Find-a-Grave website complete with photos..