Montana's First Territorial Prison was First In Western United States
"Gold was discovered near Deer Lodge in 1862.Subsequent discoveries in Bannack and Virginia City prompted a gold rush that attractedmen and women of both good and bad character. Thievery, lawlessness, and murder prevaileduntil vigilante groups organized and hung or banished many of the worst criminals. In thewinter of 1866-67,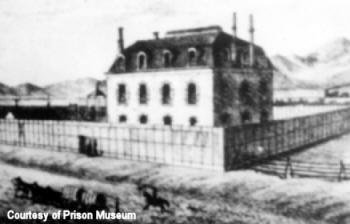 the Territorial Legislature requested funds for a prison. The UnitedStates Congress quickly approved the request, but the funding was inadequate."

"Deer Lodge was picked for the site of the new Territorial Prison. Fundingproblems caused many delays and revisions in the plans, but construction finally began inthe spring of 1870 and the first wing was completed by fall of the same year. The firstconvict was received on July 2, 1871. On November 8, 1889, Montana became the 41st stateand the burden of operating this prison fell on the shoulders of the new state government.Inadequate funding and overcrowded conditions have plagued this facility for over 100years. In 1979, this prison was abandoned in favor of a new facility, five miles west ofDeer Lodge."

"Today the old prison is listed on the National Registry of Historic Placesand is preserved and operated as a museum by the Powell County Museum and Arts Foundationunder a lease agreement with the State of Montana."
Some say that Yuma Territorial Prison in Arizona wasthe first in the Western United States, it was built in 1876 and they received their firstprisoner July 1, 1876.
Consent to photograph, and prison information obtained from the Old Territorial Prison Museum, Deer Lodge, Montana.